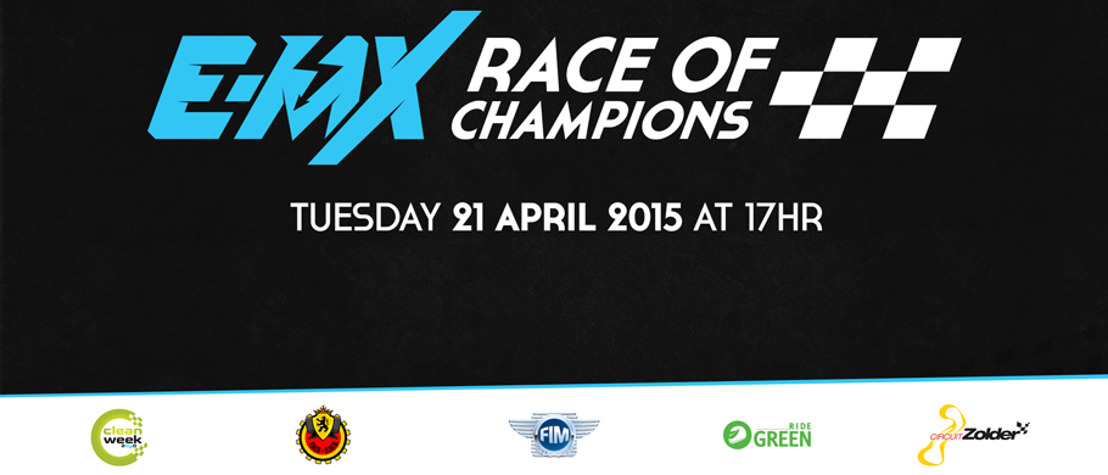 E-MX Race of Champions: all about electrocross
Tuesday, April 14, 2015 — The revolution of electric motorcycles is not just around the corner, it's happening as we speak! Testimony to this growing force in the world of powersports is the annual E-MX Race of Champions. This race for electric motorcycles, taking place on April 21 in Zolder (Belgium), boasts a line-up that reads as a who's who of world motocross. Fans and media get to see electric MX bikes of KTM, Tacita and Kuberg in action and FMX4ever is set to thrill the crowd with their electrifying FMX tricks!
World stage for E-MX competition
The famous E-MX Race of Champions has quickly grown into one of the highlights of Circuit Zolder's tradtitional Clean week 2020, dedicated to alternative mobility and motorsport. Given the strength of the field the E-MX Race of Champions is probably the world's most prestigious motocross race for electric bikes.
Home rider Stefan Everts, winner of the very first Race of Champions in 2013, is still one of the favourites. However 'The Legend' will be facing stiff competition with the current runner-up in the MX2 World Championship Pauls Jonass, former GP winners Ken De Dycker and Dean Ferris. The latter is likely to be accompanied by his Husqvarna factory team mate Aleksander Tonkov. Former world champs Eric Geboers and Joël Smets are also committed to race. But the uncertain factor in this year's title hunt is the pack of hungry, young wolves Jorge Prado, Conrad Mewse, Josiah Natzke, Thomas Sileika and the talented home rider Jago Geerts.
Since all riders start on equal foot -riding the revolutionary KTM Freeride E- surprises are more rule than exception. So don't rule out the fast amateur riders Yentel Martens, Marvin Van Daele, Kenny Vandueren, Mike Vanderstraeten and David Cools. Or are we going to see an upset by the fast Dutch delegation of the eeXparc? All of them riders who are used to racing on electric motocross bikes! And eeXparc's Daan Bruijsten even made the overall podium last year with MX2 world champion Jordi Tixier and the 2014 E-MX champ Valentin Guillod.

Ready to rock?

Electric motocross bikes and their asphalt brothers are here to stay. All over the world thousands of riders have chosen electric for their daily commutes or just for fun. Marcel Bulthuis (Electric Motorcycles Nederland) will attend the event with some state-of-the-art bikes, among them a unique race bike. The Italian manaufacturer Tacita had developed a complete range of electric motorcycles but all eyes will be on the T-Race Cross. Spectators are in for a treat when these spectacular bikes will fight it out in 1-on-1 races on the E-MX track.

Kids even get to try electric bikes themselves thanks to Kuberg's demo zone. These small wonders are light, quiet, easy to ride and most of all lots of fun!
FMX4ever got talent

After blowing away audiences around the globe with their breathtaking show Belgium's FMX4ever crew is finally being recognized at home. Jimmy Verburgh and his riders are currently hotter than hot thanks to their participation in the popular TV show 'Belgium's got talent'. At the EMX-Race of Champions fans get to witness their insane tricks live! You can count on Jimbo, Gilles Dejong and Martin Koren to deliver an insane FMX show with their KTM Freeride E bikes. Last year Dejong wrote history by 'flipping an electric motorycle, let's see what the boys got in store for us this time!

Thanks to the strategically positioned berms specators are always close to the action, while enjoy a drink or a bite. Red bull's DJ make sure to provide the EMX-Race of Champions with the perfect, energetic soundtrack. And best of all, you get to experience all of this completely for free! Incredible? Well, you have to see it to believe... Now I come to think of it that's exactly like electric bikes themselves.
Free practice: 17h
E-MX Race of Champions: 18h 20
Tacita 1-versus-1: 19h
E-MX Race of Champions final: 20h 30



--------------------------------
NOT for publication:
Members of the media who want to obtain accreditation for EMX Race of Champions please send an e-mail to: Mireille.Heylen@telenet.be