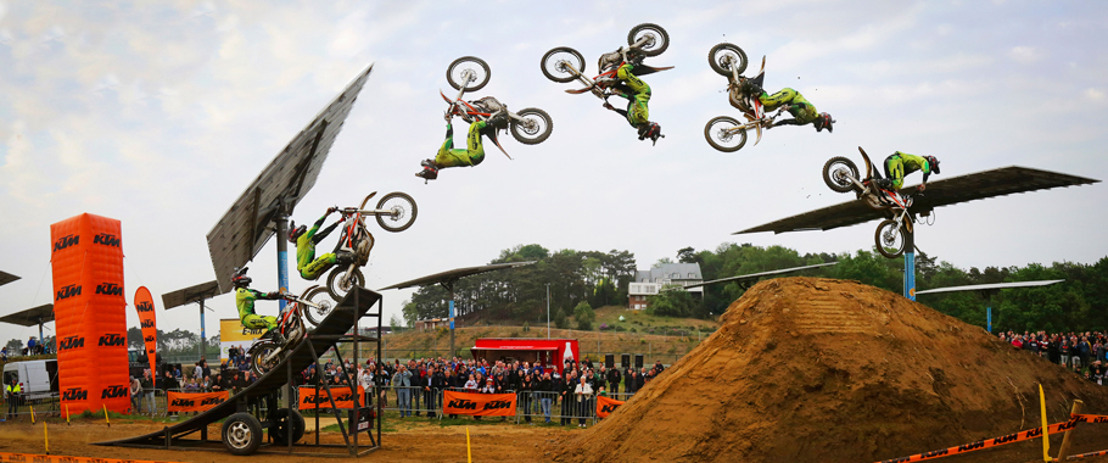 FMX icon Gilles Dejong goes flippin' electric!!
Official E-MX Race of Champions 2014 after movie
Saturday, May 17, 2014 — Without exception there's a sense of rebellion in everyone riding dirtbikes. To defy convention, push your limits and be different are all part of what makes motocross so special. In this pioneering spirit, worldclass and not so worldclass MX riders, BMX'ers and FMX'ers came together for the E-MX Race of Champions staged at Circuit Zolder, Belgium. Now re-live all of the action and excitement with the official E-MX Race of Champions after movie!
Think you need noise to have fun? Anyone told you that you can not show your skills or courage without gasoline? Is there really no substitute for cubic inches when it comes to adrenalin and joy? Think again! From E-MX champion Valentin Guillod (Standing Construct-KTM), Jordi Tixier to Stefan Everts and their less famous colleagues, all competitors rode around with a big grin on their face.

The races not only left the crowd the excited, all riders were equally electrified by the KTM Freeride E experience. It inspired MX2 rookie of the season Guillod to half-jokingly ask: "If he could keep the bike, please?" Now that he had won and all that. Errr, not sure Valentin. We could ask the boss for you! Or who knows maybe you can negotiate one as a bonus when you win your first GP. And what if next year's E-MX Champion does ride away with the bike at the end of the day?!

Gilles Dejong does it again

The enthusiastic crowd was even treated to a world first. Who better than the ultimate rebel of freestyle motocross himself Mr. Gilles 'Baton' Dejong to pull it off! The 29-year old Belgian is as much at home in motocross as he is in enduro, supercross or FMX. He's as friendly off the bike as he is creative and courageous on it. Dejong is both enigmatic and cool. While he doesn't care for fame, his amazing stunts and personality have made him into a cult hero. Or how else do you describe a guy who:
- Flipped Marc Coma's Victorious Dakar Bike
- Did the first duo-backflip on German soil
- Won the Erzberg rocket ride
- Rode motocross and supermoto GP's and rode in the Red Bull X-Fighters
- Backflipped an electric motocross bike on a spring evening in Belgium
- Is into tattoos, punk-rock and nature

But even without Superman-flares, backflips and heelclickers these electric MX bikes seem to be getting pretty awesome. So make sure you don't miss out. And see you next year in Zolder for another E-MX Race of Champions!