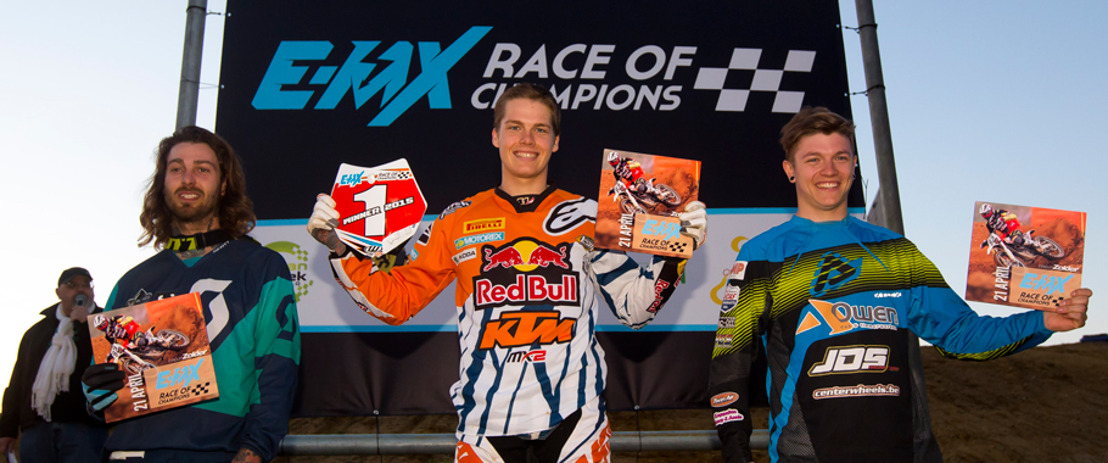 Pauls Jonass is the new EMX champion!
Race report EMX Race of Champions
Wednesday, April 22, 2015 — Circuit Zolder has a rich history in motocross with GP races, the 2003 Motocross of Nations and it's hosted the EMX Race of Champions now for the third year in a row. After Stefan Everts (2013) and Valentin Guillod last year it was the sensational Pauls Jonass (Red Bull KTM) who convincingly claimed the semi-official title of fastest electrocross rider in the world! The 18-year old double Jr. world champion swiftly translated his motocross skills and pace on both the KTM Freeride E and the well-prepped Zolder EMX track. Jonass was joined on the podium by Gilles Dejong and Jilani Cambré.
Yesterday evening a bumper crowd of over 2.500 gathered at Circuit Zolder to witness close racing in a relaxed atmosphere. However with a healthy mix of MXGP stars, up and coming future stars and local amateurs the competition was all but laid-back! All entrants rode on identical KTM Freeride E bikes. The track -specifically adapted to electric motocross- was technical and challenging. Following the proven knock-out tournament formula, with 8 riders lining up each moto, racing proved to be intense… and surprising! DIGA-KTM's Tomas Sileika rode to a shock win in the first semi while Jonass beat Aussie Dean Ferris in the second.
Pauls Jonass dominated in the final but the battles behind him were close and spectacular. Former MX/Supermoto/Enduro rider turned FMX hero Gilles Dejong once again showcased his style and versatility on two wheels by claiming second. Gilles also wowed the crowd in the FMX4Ever Freestyle demo by executing the perfect backflip on an electric motocross bike! Fast local amateur Cambré proudly climbed the third step of the podium. With two riders in the final, the well-established Dutch eeXperience parc was well-represented. Jorn Zoetekouw came 4th, Rob Van Uden finished 6th.

In the Tacita one-on-one challenge Italy's Diego Pederiva beat five-time world champion Joël Smets in a thrilling photo-finish sprint! Yet with a solid 3rd in his semi and a 5th in the final Joël's son Greg certainly made a name for himself. Thanks to riders from 11 countries taking part, ever-growing media interest and an enthusiastic crowd the EMX Race of Champions is not only committed to promote electric motocross but also establishing itself as the most prestigious EMX race in the world. So, get charged and start training for next year's edition!
EMX Race of Champions Final
1. Pauls Jonass (LAT), 2. Gilles Dejong (BEL), 3. Jilani Cambré (BEL), 4. Jorn Zoetekouw (NED), 5. Greg Smets (BEL), 6. Rob Van Uden (NED), 7. Dean Ferris (AUS), DNF Tomass Sileika
Semi final 1: 
1. Tomas Sileika, 2. Jilani Cambré (BEL), 3. Greg Smets (BEL), 4. Rob Van Uden (NED), 5. Jimmy Verburgh (BEL), 6. Yentel Martens (BEL), 7. Stefan Everts (BEL) DNF Jago Geerts

Semi final 2: 
1. Pauls Jonass (LAT), 2. Dean Ferris (AUS), 3. Gilles Dejong (BEL), 4. Jorn Zoetekouw (NED), 5. Marvin Van Daele (BEL), 6. Junior Slegers (BEL), 7. Kenny Vandueren (BEL), 8. Bart Neslissen

Copyright-free archive images
Credit for all images: 'CDS'. 
These images are available free of charge to download for editorial or private use. Not for commercial, merchandising or advertising use without prior written permission from peetermansstefan@icloud.com

Members of the media can contact us a the same address with specific photo requests.